The Technovation #SwitchStory: Team Flash's Road to Becoming the Champions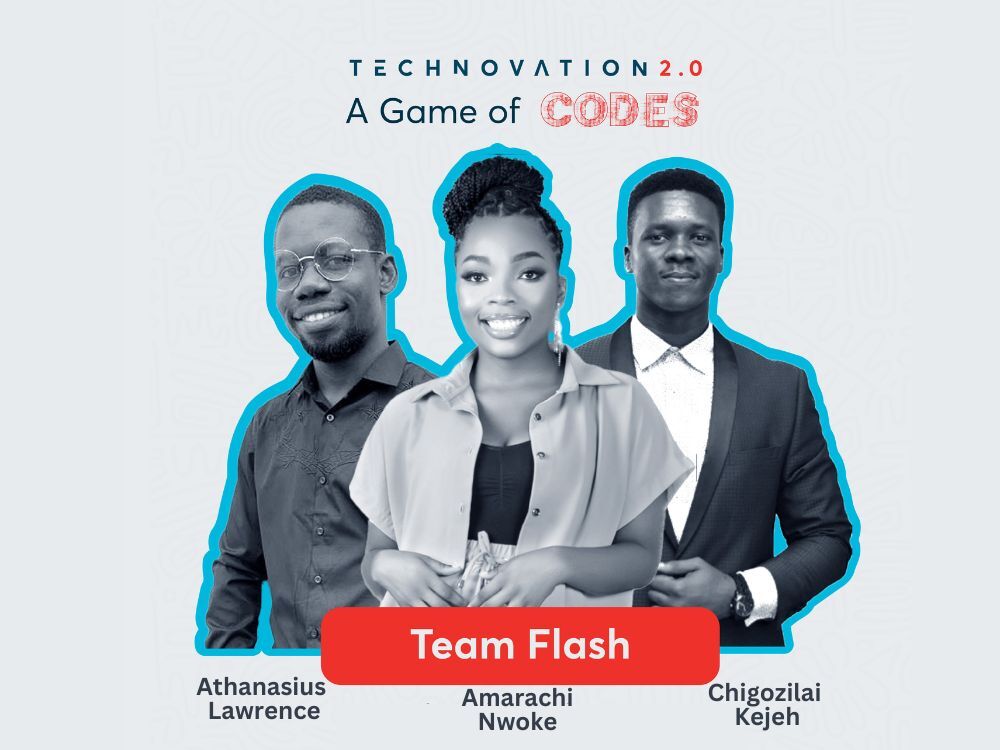 Technovation 2.0, Interswitch's internal hackathon has come and gone, but the aftermath of the epoch-making event still echoes across The Switch and through the streets of the Nigerian tech ecosystem.
For Team Flash, who won the competition, the journey to their emergence was an emotional rollercoaster. From late-night ideation sessions and building prototypes to getting shortlisted in the top five category and finally battling it out at the grand finale, the team showcased the true spirit of Interswitch in their resilience and final victory.
As the team adjusts to their newfound status as the winners of Interswitch's premier hackathon, we delve into their backstories and explore their journey into the world of tech before the ovation came.
Amarachi Nwoke, the leader of the team started her career as a Front Desk personnel at Interswitch. In a matter of months, she transitioned into Human Resources Management and later, Business Development, before finally finding her calling as a Technical Product Manager. She shares how her career started at The Switch after being rejected from her Place of Primary Assignment (PPA) during her National Youth Service, and how Interswitch helped navigate her career transitions.
"I was posted to Lagos. After scaling through stages of interviews at my PPA, the final interviewer wondered how I got posted there since I had no 'connections.' He asked who my father was. Since he could not get a satisfactory answer, I was not employed. That experience made me want to work in HR to prevent those kinds of things from happening to others."
"A few days later, I was around VI in my corper's uniform, then I got to Oko Awo. I didn't even know that was Interswitch's office. I was walking on the street and greeted a security guard. He smiled, called me back and asked why I greeted him. Then he said, 'Are you looking for a place to serve?' I told him 'yes'. Then he said 'Enter and write your name. You will write a test, if you pass, they will take you.'
"After a number of disappointments, that was the first person that was polite to me in this city. That was how I fell in love with Interswitch. I was like whether they take me or not, I already love these guys. That particular experience taught me about kindness and courteousness."
Fortunately, she passed the test and got selected for a Front Desk Officer role. But Amarachi still had her sights set on Human Resources. When an internship opening came up at HR, she jumped at the opportunity, wrote the test, and passed. She started working at HR while still moonlighting as a Front Desk Officer. But alas, fate still had more in store for her.
"Immediately after NYSC, I moved fully into HR. I was always pushing stuff about Interswitch on my status, basically anywhere. So, I sort of became the go-to person when some of my friends had a challenge with any of our consumer products. I will usually escalate these things to the support people. Then one day, I thought about it. Maybe I should join the people shipping these products and contribute my own quota. I loved HR but seeing the kind of impact Interswitch's products makes externally, I wanted to be in the thick of it.
"So I signified that I wanted to move. The only role available on the product side then was a business development role for the Interswitch Lending Service (ILS). I was asked to do an interview. At first, I wondered why I needed to do another stressful interview again since I was moving internally. But I understood. That's the thing with Interswitch, there is no partiality. You have to pass through the process whether you work internally, or you are coming externally. "
"I passed the interviews and started working in ILS. My line manager then was awesome. I got to learn a lot from him. The thing is that most of the people that have had a major impact on my career have been from Interswitch. While I was in business, he observed that I was always close to the product manager. I was even jumping on tasks that were product management related because of my deep understanding of clients' needs from interfacing with them. Before he left The Switch, my line manager told me that the future he sees for me was in product and I should upskill in that regard. I decided to do a product management course and did a capstone project. I even sent the project to some of the senior managers here. Later on, there was an opening in ILS product, and I finally moved. The rest as they say is history."
Chigozilai Kejeh is another teammate who pulled all the stops to get to the career he wanted. Popularly known as "Chigo," his role as a data scientist at Purepay, the digital payments division of Interswitch, is to analyse data for clients, cull insights and create models for them to make business decisions.
But he had to make a switch from a background in electrical and electronics engineering to get to this point. His ability to move fast and learn new skills for the achievement of his goals earned him the "multitalented" moniker from his teammates.
Amarachi talks about how Chigozilai pulled all-nighters to work the Figma for their idea in a few days.
"Chigo is someone that does not need to be skilled in something. He will go the extra mile to learn that skill to make it work. Chigo was not skilled in Figma. He is a data scientist, but he was able to pick it up and bring our idea to life in a matter of days. So, it's not about always knowing what to do. It's all about having the passion and the zeal to learn."
For Chigozilai, working on the idea and eventually winning the competition has inspired him to always see the bigger picture when it comes to his work. Now, he believes he is well situated to act on the insights he provides as a data scientist.
"You know, when you do your tasks, you tend to just think of that section or stuff that you are working on and you hardly think about something that can, for instance, ease the pain of the regular market woman. Now, I get to think on that in the light of the bigger picture, I try to see how my work can have an impact on the regular person on the street."
However, Chigo wasn't always this enthusiastic about Technovation. He recalls when Amarachi initially discussed the idea with him, he was a little doubtful about participating.
"When Amarachi initially approached me and said 'Hey let's take part in this Technovation competition, my initial reaction was that this ginger will soon diminish. I felt I wasn't ready to take on the challenge because I had so many pending tasks. In my mind, I thought she was joking and that she would move on. But by the next day, we were already talking about the ideas, and I was like, let's get started.
"We threw around a couple of ideas at the time. There was the issue of the cash crunch, so the solution focused on that pain point. I remember us brainstorming and even having to reach out to a few mentors to see what would work and what would not. Eventually, we settled for a solution that would help the underbanked and the unbanked who were the major people affected by the cash crunch."
For Athanasius Lawrence, the third member of Team Flash, his initial reaction to participating in the Technovation competition was similar to Chigozolai's.
"Initially, when the idea was shared with me, I didn't see it scaling through the screening phase. But the way Amarachi approached me, I could feel the passion. She came fully prepared and got all the questions I asked right. Even in the first meeting we had, Amarachi already had some documents to present, Chigo was giving us like real-time data, with a lot of accuracy. That was when I told myself that this is a good time to work with other people that are not in my direct team."
Athanasius, who is a software engineer at Inclusio, the financial inclusion division of Interswitch, was responsible for creating the application for the team's idea which enabled them to present a demo from the actual code at the grand finale. He believes one of the key challenges the team faced was the desire to come up with something great within the limited timeframe.
"Sometimes we will be at wrap-up meetings and new ideas will start flying. It got to a point, I started thinking to myself, 'competition is next tomorrow, and we are coming up with these ideas, when are we going to implement these things? Even if we get extra hands, is it possible to meet up?'"
However, he found out he could do more if the motivation was right, and the motivation for him was not just to have something to present, but to emerge champions at the grand finale. Based on his experience, he advises tech bros like him not to shy away from competitions like Technovation.
"Let go of the fear of your tight schedule. A lot of people have some quality ideas, but they will say I'm too busy to apply or this will affect my work. The thing with a competition like Technovation is that it teaches you time management... and you'll never know the impact your product will make in the long run."
Speaking about the impact of their winning idea, Amarachi believes it will be a game-changer for the unbanked.
"One thing working on this idea taught us was the importance of user research. We were able to do a lot of user research. We started entering cabs more so we could speak to the drivers. We started entering the market more just to speak with the market people. And the challenge for us was, how we can get these people on board faster and make them stay.
"It will be nice to see more products tailored to the users, so they feel like they are actually being listened to. That was what we tried to achieve with the idea. On the macro level, the impact of our product is that we will have more data on the unbanked and underbanked sector, and with this, data services like loans can be provided for them, because their creditworthiness can now be gauged, which wasn't so possible before now."
It has been a long arduous journey for Amarachi and her team, but they are where they need to be. For them, the victory was not just about the accolades or the prize but the growth, the bonds forged, and the unyielding belief in their collective abilities.
Their triumph was not just a destination; it was an affirmation that their journey, filled with sweat, laughter, and resilience, was always leading them to that moment of well-deserved success.
Amarachi beautifully summed it up, saying, "I realized that in the end, no matter what we do, sometimes the road may be long, but we will end up where we are supposed to be."
---